Manufacturers of
fire rated door systems
A fire door system safe today, safe tomorrow
The Solidcor™ Fire Door System results from a journey of listening. A journey that started by listening to the wish-list of a highly respected London Housing Association with a 40,000 plus property portfolio.
Architect led, the Housing Association asked for a fire rated doorset designed to assist the less able using the Rutland door closer with slide arm and controlled closing and latch action. The door closer was to be fitted overhead out of reach of children's fingers to reduce risk associated with finger trap injuries. The entire doorset must be fire tested using multipoint locks, and identical doorsets security tested to PAS 24. The system must be low maintenance due to limited budget, and returning to the days of decorating costs associated with painted doors and frames was not an option.
This wish-list is now reality with the Solidcor™ Fire Door System. Successful achieved fire testing bi-directionally (both orientations), and passed EN1634.
Designed through listening.
Become a Solidcor registered Surveyor, Fabricator & Installer
Do you want to grow your business? Do you want to add value to what you do? 
Here at Solidcor we want to support your growth, become a Solidcor preferred Surveyor, Fabricator or Installer. 
Surveyors
Our comprehensive Surveyor Training course, will cover everything you need to become a Solidcor preferred fire door surveyor.
Fabricators
Grow your business by becoming a licensed Fabricator of the R30 Fire Door.
Installer & Maintenance
Become an approved and preferred Solidcor Installer and maintainer training course.
✔ Highly durable against weather, vandalism and crime
✔ 10 year guarantee on the frame and slab
✔ 5 year guarantee on the hardware
✔ Solid timber core door leaf and frame for consistent fire protection
✔ Maintenance free
✔ Glazing options and styles
✔ Exclusive door furniture
✔ Tested to the highest standards and third party certificated
"The whole process has been effortless, right from the initial enquiry, the technical support throughout the process has been invaluable. Doors arrived on time and fitted seamlessly."

Housing Association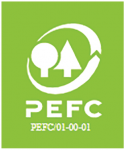 Only around 10% of the world's forests are certified, but 87% of the wood used by Solidcor has international PEFC™ and FSC® forest certification. This is an excellent rate in our industry, and our goal is to keep the share of certified wood above 80%. Of the wood we use, 100% is traceable and comes from certified or controlled forests. We promote forest certification in all of our areas of operation and actively participate in its development internationally.
In response to the current epidemic Solidcor have responded by manufacturing a Hygiene Door
The Solidcor Hygiene Door is a bespoke, high quality clean room door which ensures both a high degree of impermeability combined with a high level of security. This makes Solidcor Hygiene Door ideal for external use from temporary isolation pods, to larger and more permanent healthcare facilities.
Solidcor supply a doorset system with all the important fire, smoke, security and air-impermeability testing to the current BS/EN standards. With Solidcor Hygiene Door you get the highest level of hygiene combined with optimum level of safety.
• Glass cutouts for a high level of transparency.
• Tested in both flexible steel stud or solid wall construction to EN 1634-1 + 3 fire and smoke resistance.
• MARINE 316 Stainless Steel or Antimicrobial copper hardware available depending on customer's requirements.
• Heavy duty fully encapsulated surface with GRP edgebanding.